Have Links Directed to Specifc Browser
Ever wanted to have certain links directed to specific browser or app based on their hostname, well read on to find out how to achieve that on macOS.
There is a fair possibility that you have multiple browsers installed on your machine & you use each of them for specific task. Like for example, I use Firefox for containerizing shopping, banking & MAANG/GAFAM sites; Arc Browser for emails, design tools, mood boarding & research; Safari for gdrive access because it is snappy.
So when I'm using say a messaging app on my Mac, like Telegram, I often come across links which I need to checkout and all the links launch in Firefox because that is set as default. But there are times when I want to have certain links directed to different browser or even to their natives apps based on the hostname.
If a friend of mine on Telegram shares a link to Figma or Canva to mne, it will open in Firefox by default but I want the Figma link to open in my native Figma app & the Canva link directed to Arc Browser – that is exactly where a browser picking app Velja helps me now.
Velja is a powerful & free browser picker app for macOS that help users to define matching rules or pattern for specific websites and direct them to the specified app or browser.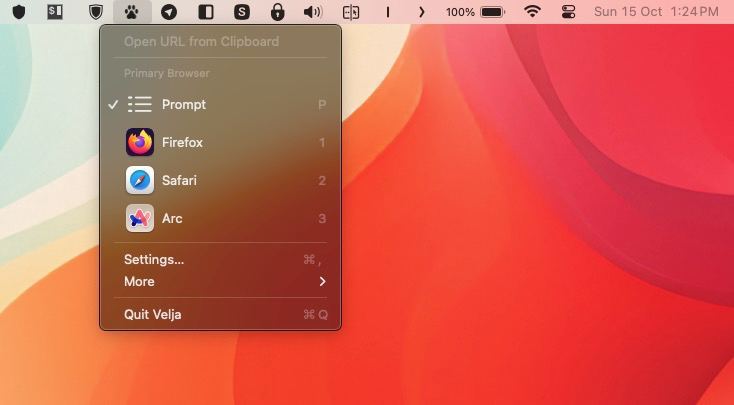 For Velja to work, it needs to be set as a default browser. We can then set the Velja on specified modes. I have set it to Prompt so when links are clicked it display a little prompt asking to select the browser to open the link in.
It also has a list of pre-set app configuration. So if it detects a hostname have corresponding app installed it will direct the links to that app – helping me with auto redirecting the figma.com links to native app of Figma.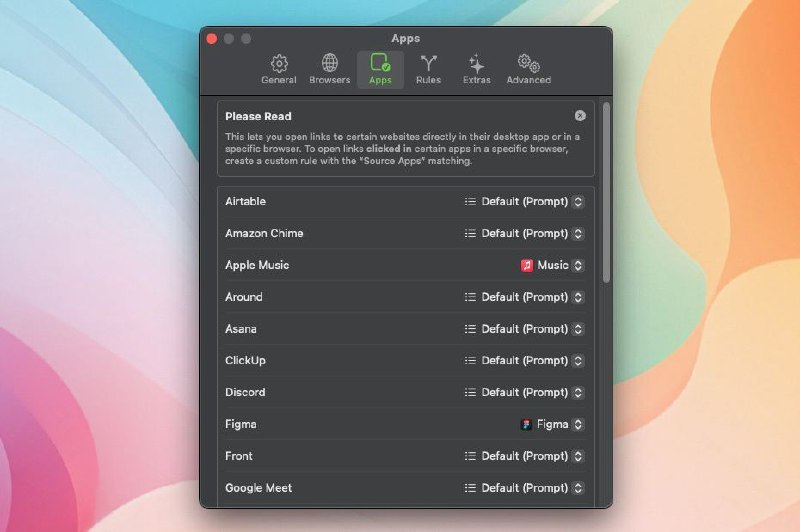 Open Google Drive Links in Safari
In the menu bar, click on the Velja paw 🐾 icon
Go to Settings
Click on rules
Click on + sign to add
Set a name for it "Drive"
From "Open to" select "Safari"
Click on + URL Matchers
Sample URL to https://drive.google.com
Detect via > Domain
Match > drive.google.com
Click on Save
If you want google.com and all the related subdomains like mail.google.com, drive.google.com to open in Safari
Set Sample URL to any google service URL
Detect via > Hostname (Domain & Subdomain)
Match > google.com
Click on Save
That is not all. You can find read about other features on the official docs page.
Noteworthy mention
Finicky : many mac users prefer this but this is not being actively developed but feel free to try out.
Closing Words
I was personally in highly need of such a tool because of needs & choice for different browser flavors. There are other custom ways to have links directed to different browser like certain apple scripts & other apps but I found Velja easy to work around with and after all it is free. Thanks to generous donors & the developer.
Reply via mail